Results tagged ' Spring Training '
Bill Smith was the General Manager of the Appleton Foxes from 1983-1985.  He has moved up in the Minnesota Twins organization, where he was the GM from 2008-2011, and is presently an assistant to the president and GM for the Twins.
Why do I bring this up today?
This story about renovations to the Twins spring training complex in Florida was passed along to me and I liked it for a lot of different reasons.
The first was the connection to Smith, since this nearly $50 million project was his baby…to put it one way.  The second was this:
The centerpiece of the…project was the minor league player development academy. The gleaming three-story building was designed to house, feed, teach and train prospects year round. The Detroit Tigers and Pittsburgh Pirates each have on-site dormitories for minor leaguers elsewhere in Florida, but what the Twins have now is unparalleled in the majors.

"There are going to be guys who are going to point to the academy as far as an important part of their development," President Dave St. Peter said.

The overall goal was to better prepare Twins prospects for the majors, from nutrition to education to equipment.

For the many Spanish-speaking players from Latin American countries, there are English lessons. For the drafted players who left college before graduation, there are spaces and resources for completing degrees online. For everyone, there are healthy meals professionally prepared on site.

"They don't even allow cookies over there," general manager Terry Ryan said, adding: "They can go out and get what they want if they want to, but it's important to us that at least they have been educated about what we want them to put in their bodies."

There's no soda, either, but comforts abound. The 54 double rooms have plush queen beds, refrigerators, desks, dressers and bathrooms, each unit decorated with photos of the Twins players who wore the number of the room. Justin Morneau and Mudcat Grant, for example, provide the backdrop for No. 33.
Plenty more at the link.  But here's a photo of one of the dorm rooms.
Bill Smith's 1983 baseball card with the Foxes:
Alumni Birthdays for February 26:
Rich Graham ('93) – 45
David Howard ('88) – 48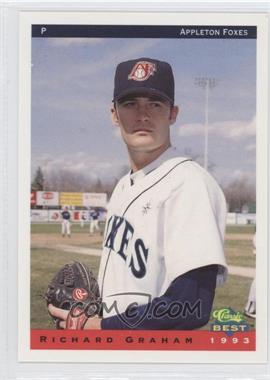 1993 Classic Best Appleton Foxes #9 – Rich Graham